мэлхий Rock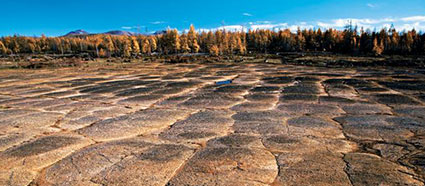 The мэлхий Rock is located in the south of the Xing'an service area, near the forest small train, the distribution area of 3 square kilometers, is currently the only discovery of lava structure at a large scale which develops and preserves perfectly, the мэлхий Rock is called "national treasure" by geological experts.
The turtle lava is encrusting lava flows, lava flow is the case because the cooling contraction form different direction of the fracture, reticular, late and multi period lava flow along the fractures, forming a mutual intersection, the smooth surface of lava flows and irregular arrangement of the polygon, because a piece of lava just like a huge turtle hidden in the ground and the name, so called "lava turtle structure", also called мэлхий Rock.
Structure of the Aershan volcano turtle has at least three lava flow unit, characterized by parallel bedding and cross bedding. Each part of the мэлхий Rock is connected by the gaps that sink to the ground, walk on the мэлхий Rock is like walking in the tortoise shell. Tian Mingzhong, geosciences professor of China University, said: "from the view of characteristics, here at least once flowed through three different periods of lava flow."