Arxan Earthly Pond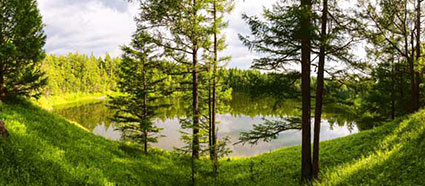 The Earthly Pond of Arxan is about 6 kilometers away from the southeast of Arxan Heaven Lake. It is 1,123 meters above sea level, extending from the north to the east. The pond is 150 meters in length and 100 meters in width, covers an area of 1.25 hectares. The depth of the pond is up to 39 - 50 meters. The pond is a typical Maar surrounded by dense and hard basalt rock. The Earthly Pond is named because its water level is lower than the ground.
The Earthly Pond is an oval pond formed in late Pleistocene (about 100 thousand years BP). When volcano erupts, magma from the earth's crust encounters underground water, and then water evaporates into steam, resulting in radical expansion and large explosion. Lava, ash, scoria and rubbles is ejected by the explosion, scattered around the crater, which forming an unique landform. With the repeated explosion, magma cooled or sealed groundwater, hence the explosion is phased out. A lake is starting to take shape after the cooling of lava, the connection of groundwater in volcano bottom and the role of atmospheric precipitation. The feature is that it lower than the ground, and there is no river flows in or out.
The Earthly Pond is the only sunken lake that is lower than the ground among the crater lakes of Arxan. It has a special landscape and high value of appreciation. And its uniqueness and rarity boast great value in scientific research.