Arxan National Forest Park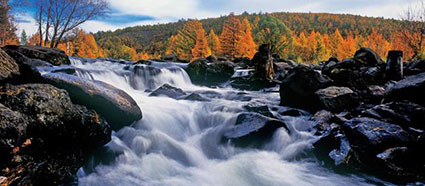 Arxan National Forest Park, approved by the State Forestry Administration in 2000, becomes a national 4A scenic spot in 2008.
Arxan National Forest Park is located in the southwest foothill of the Greater Khingan Ranges, with a total area of 103,149 hectares. The primary forest stretches for thousands of miles with beautiful scenery of green trees. 80% of the land is covered by forest and the vegetation type is cold-temperate mixed conifer-broadleaf forests. Arxan National Forest Park owns abundant and unique resources. There are mainly 522 types of plants and 90 different wildlives in the park. Located in a humid region of cold temperate zone, the annual average temperature here is -3℃ and the frost-free season is about 90 days. Besides, the park is a typical volcanic lava area, there are many high-place crater lake, lave barrier lake, functional mineral or hot spring groups and various lava landforms.
The natural resources of the park is original, unartificial, wonderful and various with a good ecological environment and miraculous and diversified natural landscape. Arxan National Forest Park is an ideal eco-travel destination with primitive forest, volcano relic, hot spring and mineral spring, mountain wetland, rivers and lakes, gorges and peaks.
Aershan National Forest Park has won many honorary titles, for instance, National Science Education Base, The Most Influential National Forest Park, The Most Beautiful Scenic Spot in China, and National Eco-Tourism Demonstration Area.