Heavenly Lake of Camel Hump Mountain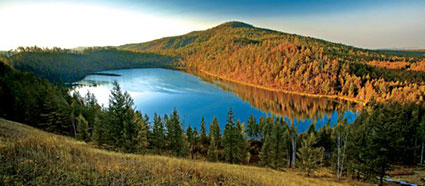 Heavenly Lake of Camel Hump Mountain is 10 kilometer northeastward away from the Higgan Highway Service Center. The altitude is 1284 meters. It is about 450 meters wide from east to west, and 800 meters long from north to south. It coves an area of 26 hectares. It is the largest and deepest lake among all Heavenly Lakes in Arxan. It is named because it looks like a camel lying prostrate when looking from the distance.
Heavenly Lake of Camel Hump Mountain is formed in the middle pleistocene(about 300 thousand years ago). It is a maar formed by water accumulation at the volcanic vent after volcano eruption. The lake is in"left foot" shape. The volcanic vent lies in south-north direction. The peak around the volcanic vent is 1370 meters in altitude. The relative height difference is 130 meters. There is a lava outlet at the east and west of the river respectively.
Autumn is the best season for seeing the beautiful scenery of Heavenly Lake of Camel Hump Mountain . In autumn,all you can see at Heavenly Lake of Camel Hump Mountain is bright color of gold and lively color of blue. Autumn colors are not monotonous with red foliage, white birch and tea-green pines. Autumn colors are not dull either. Sometimes, gentle winds blow through the forest. Golden-yellow pine needles fall with the wind one after another. They are like long and thin eyelashes, glittering in the autumn sun.
In this area, a kind of stone can float on water, which is known as pumice stone. It is the product of volcanic eruption, consisting of volcanic glass, minerals and air holes. The stone is a type of spongy porous volcanic rock. Air holes account for about 70% of the stone. In large pumice stones, air holes and traces of eruption can be easily spotted. The pumice stones can float on water because its air holes and low density.