Three Ponds Gorge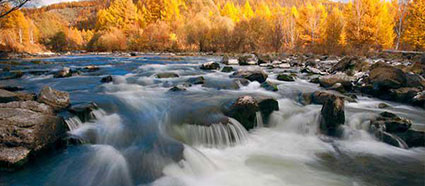 Santan Gorge (Three Ponds Gorge) is about 78 kilometers away from Arxan city, located in the upstream of Khalkha River, south of the Arxan Heaven Lake. It is an unique gorge, which formed above the ground after more than 10 kilometers of Khalkha River underflow across Shitang Lin Forest.
The length of the gorge is 3 kilometers. The south part of the gorge are cliffy peaks, the north part is gigantic basalt rock platform. The river valley is filled with volcanic rocks. The fast-flowing Khalkha River goes through the river valley, making a splendid view of pearlescent water splash. Santan Gorge consists of three ponds from the upstream to downstream. Woniu Pond has smooth and steady water flows. Rocks and stones of different sizes scatter in the river, which are like large herds of cattle resting in the river. Hushi Pond has calm water flows. Over the calm surface, the river is filled with large stones in different shapes, which are like herds of tigers playing with each other in the river. Yuexin Pond is at the end of the gorge. The riverbed here becomes extensive. The river surface becomes wider. Water of the pond is clear enough to see the bottom. There is also a waterfall in the downstream of the gorge.
River and Waves roar through the Santan Gorge. Precipitous and primitive cliffs stand on both sides of the river, demonstrating a sense of primitivism. In the open areas, white birches and larches blot out the sky and cover the sun. Dense forests, exotic flowers and rare herbs spread all over the mountains, which is like an endless and intoxicating scroll painting. In spring, azaleas are all over the mountains, displaying the scene of misty fairyland. This segment of the river is covered by snow even in June, which is known as "Glacier in Summer".