Azalea Lake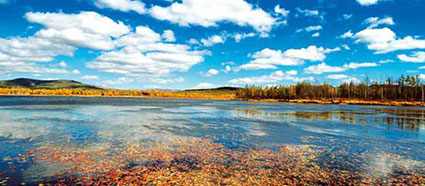 Azalea Lake is is located in 2 kilometers east of the Higgan Highway Service Center, 92 km away from Arxan city. It is 1244 meters above sea level, the average depth of water is 2.5 meters, the deepest part is 5 meters. The lake covers an area of 128 hectares. It is a crater lake that forms by volcanic eruption due to lava cut off rivers.
The lake is named because azalea flower blooms around the lake. The inscript by the lake is written by Buhe, chairman of the Standing Committee of the National People's Congress. The Azalea Lake is a new moon shape. The southeast of the lake is for inlet, southwest for outlet. The upstream of the lake connects to Pine Leaves Lake, downstream connects to the Khalkha River. The lake, forest and mountains together makes a stunning view of nature.
Stones by the lake are like rocks by the sea. Disfferent shapes of stones are beautiful and amazing. When spring comes, azaleas will bloom around the lake, wild mallard, gray crane and swan rest in the lake, groups of willow fish compete food with each other. All of these will adds a lot of fun to the quiet Azalea Lake. In summer, duckweed sway on the lake surface, soft breeze blows, lush water weeds and clouds on the sky are side by side in the reflection of the river, making a fantastic scene of river flows in the sky and clouds drift in the lake. People will be surprised by the wonderfulness of nature. In autumn, the lake is pure blue and the waves chases the wind.Forests are different types of yellow or golden. In winter, the lake is frozen and become a natural skating place.
There is a Buddhist stories tells that Deer Fairy went to see Fairy of the North to ask for fire. Fairy of the North said: "I will give you fire if you walk around the lake I lived by three laps". Deer Fairy did it as Fairy of the North tells. Then azalea blooms on all footprints of Deer Fairy. The lake is the Azalea lake, the azalea blossoms by the lake is also more beautiful and charming than any other places.