Turtle Back Rock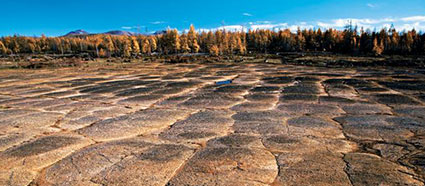 Turtle Back Rock is located in the south of the Higgan Highway Service Center and near small forest train place. The distribution area of the rock is 3 square kilometers. At present, it is the only discovered lava structure which is well-preserved,developed and at a large scale. Geological experts said that the Turtle Back Rock is "national treasure".
The turtle back lava belongs to pahoehoe(a form of lava flow of basaltic rock). The surface of lava flow that emitted from volcanoes cools and contracts and forms different directions of fractures as a net shape. Later, several times of lave flows covers the fractures, then forms many irregular arrangement of polygons on the smooth surface of lava flows. The Turtle Back Rock is named because lava rock is like huge turtle's back hidden in the ground. Therefore, it is called "lava turtle's back structure", in short "turtle back rock".
Turtle Back Rock in Arxan is impacted by at least three lava flows. The main characteristic is parallel bedding and cross bedding. Each part of the Turtle Rock is connected by the gaps that sink to the ground. Walking on the Turtle Rock is like walking on a turtle's back. Mingzhong Tian, a professor of China University of Geosciences, said: "Analyzing from its characteristics, at least three different periods of lava flow passed here before."