Shitang Lin Forest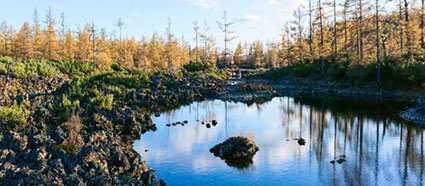 Shitang Lin Forest is located in the east of Arxan Heavenly Lake, 84 kilometers away from Arxan city, which is one of the well-known wonders in Greater Khingan Mountains because the plants grow heavily in lava rocks and lots of scattered ponds surrounded.
Shitang Lin Forest is the geological relics after volcanic eruptions in Quaternary period, which belongs to extinct volcanic basalt topography, its geological structure, soil, vegetation biomass remains original. There are complex and diverse creatures presents again the the whole process of evolution from lower plants to higher plants, which has a high value for research and protection.
Shitang Lin Forest is about 20km long, 10 km wide, which is cemented together by flowing magma after volcanic eruption.After thousands of years of weathering and constant flow of water, the Shitang Lin Forest has been formed with its unique characteristics of natural landscape just like a rough sea of lava, there are rolling stone, lava ridge, lava rope, lava plate, lava caves, lava hills, fumarolic cone, lava depressive valleys,underground river and other magical landscape.
The lava turtle-back structure was found in this large area of volcanic lava topography, according to geologists' introduction that the turtle-back structure is the only large-scale, well-developed, well-preserved in China. There are also hundreds of lava hills, which is the only basalt landscape that you can enjoy nationwide.
What's beyond our imagination is that there is no soil actually in Shitang Lin Forest,the tall,lush and dense larch with thick leaves is clinging to the volcanic rocks tightly, its roots is deepening in the gap between the lava; the short alpine cypress stretches its limbs all over, which shows its tenacious vitality;the evergreen Pinus pumila blossoms like a snow lotus; Potentilla fruticosa and Potentilla davica blossom and never wither, there are lots of other lower plants moss. Rugged rare stones and forest rely on each other,flowers blend with plants, the stone Creek with clear water, the still water in pools flicker, the jumping rabbit sometimes voice crisp sound, which constitutes a magnificent spectacular, lively and astonishing, wonderful workmanship of forest painting.